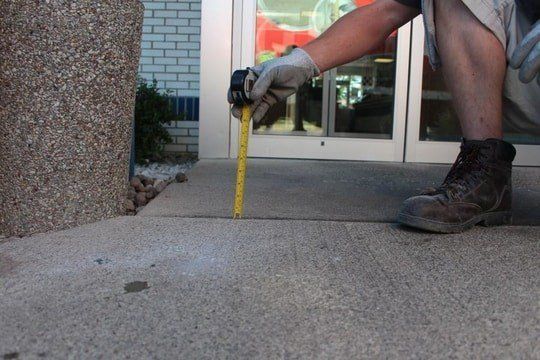 As a homeowner, you know that making a few key upgrades here and there can go a long way to increase your property value. Repairing sunken, cracked, and damaged concrete, for example, can be a quick fix to improve your curb appeal, eliminate tripping hazards, and prevent other residential issues. However, replacing your driveway, patio, and other concrete surfaces can be time-consuming and costly projects. On a budget? Here are some quick and easy ways to transform often-overlooked concrete spaces in your next home improvement project.
IMPROVE YOUR DRIVEWAY
From unsightly cracks to uneven slabs, concrete driveways are one of the most common problems homeowners try to replace. However, rather than replace your concrete driveway, it's much more cost-effective to repair it with concrete leveling.
Mr. Level can caulk your driveway to make it smooth and risk-free. Caulk can also be used to repair porch, patio, and sidewalk cracks as well as seal over any cracks and gaps around the exterior of your home's foundation.
Meanwhile, uneven concrete driveways can cause tripping hazards and damage to your vehicles. Concrete leveling with polyurethane can easily correct both of these issues. For smaller concrete jobs that can't be leveled, Mr. Level can replace just one slab, rather than the entire job, saving homeowners even more money.
UPGRADE YOUR SIDEWALK
Fortunately, concrete sidewalk leveling can provide a cost-effective solution for upgrading your sidewalk to meet current ADA standards, as well as improve the look and safety of your property. Mr. Level has experience leveling all types of concrete, as well as sandstone sidewalks, to preserve the charm of your neighborhood, without the hefty cost of replacement.
RENOVATE YOUR POOL DECK
A pool can certainly be an upgrade to any home, but an uneven or cracked pool deck can turn summer fun into a danger zone. Concrete leveling with polyurethane can improve your pool deck in a matter of mere hours, without shutting your pool down for the summer or burning a hole in your wallet. Not to mention, polyurethane foam is water resistant, unlike other concrete leveling materials like mud. So, rather than replace or level your pool deck or every couple years, Mr. Level's pool deck leveling services can ensure a safe pool deck that can last a lifetime.
IMPROVE YOUR PATIO
Many home patios are made from concrete because of its durability and even visual qualities, especially when stamped with a design. However, excessive wear and tear, extreme weather conditions, or shifting in soil can create serious problems for homeowners. That's where patio leveling can be an easy and cost-effective backyard improvement project, compared to replacement. In just a couple hours, your patio can be restored to look brand new and be ready for outdoor entertaining.
RESTORE YOUR PORCH AND STAIRS
As front porches age, they will often show signs of decaying. Uneven front porches can cause serious issues, such as trip hazards and water leakage, so you'll want to be sure to add it to your list of home improvement jobs.
Porch leveling is fast and inexpensive to a complete overhaul. Mr. Level has experience raising porches to fix issues associated with uneven and cracked concrete to keep water from the front porch area, slow leakage, and extend the life of your porch. Don't forget about leveling your front porch steps, too!
REINFORCE YOUR FOUNDATION
Does the rain leave big puddles of water around your property? If left alone, the water can cause serious foundation problems and can even lead to basement flooding. While most waterproofing jobs can be expensive, polyurethane provides a more cost-effective solution. Mr. Level can lift and tilt your concrete away from your house, while providing a water-resistant seal around your home.
START YOUR NEXT HOME IMPROVEMENT PROJECT WITH MR. LEVEL
Mr. Level has expertise when it comes to concrete driveways, pool decks, patios, sidewalks and more. Our polyurethane leveling process is used for concrete lifting, stabilization, and void filling. In mere hours—and for half the cost of concrete replacement—your floors will be ready for entertaining and guaranteed to last a lifetime.
We're eager to start planning your home improvement projects with you! Contact Mr. Level for more information or to get a free quote.