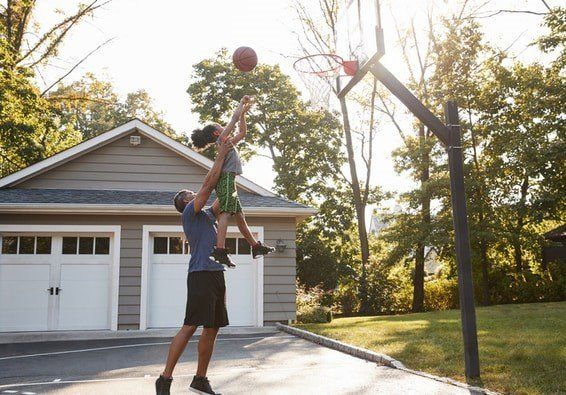 Your daughter likes to dribble around your driveway. You love shooting hoops with your son. Playing basketball in your driveway is good for more than sneaking in some quality family time or becoming the next Lebron James. Your driveway basketball court can also be a great tool to test the strength of your concrete.
FILL DRIVEWAY VOIDS
Do you hear an echo when your dribble a basketball on your driveway? Do you feel like the ground is shaking? When this happens, it means there is a void under your driveway. Voids can cause the concrete to crack, which can lead to trip hazards and injuries.
Polyurethane can be used to fill the voids under your driveway. The process is simple: We drill a dime-sized hole, put our ports in the ground, and the foam goes in. The polyurethane foam expands to fill the voids and hardens within 15 seconds. The best part is that it doesn't have to interrupt your basketball game! Because of the quick cure time, you can be back shooting hoops on your driveway immediately.
LEVEL UNEVEN CONCRETE DRIVEWAY
Already have an uneven driveway basketball court? As you're playing around, you might get fouled by uneven concrete. Uneven concrete can create serious trip hazards that need to be repaired right away.
Polyurethane can also be used to lift uneven concrete, so it remains a level surface (or basketball court) that's guaranteed to last a lifetime.
GET BACK ON THE COURT WITH MR. LEVEL
A driveway basketball court with uneven concrete is not only bad for your game, but also hazardous to you and your friends and family. Use your basketball skills to identify driveway voids and uneven concrete. Contact Mr. Level today and we'll be happy to answer any questions, challenge you to a game of one-on-one (kidding!), or to schedule one of our services.