As a business owner, safety and budgets are two things that are likely always top-of-mind. When was your last concrete inspection? A commercial concrete inspection reveals underlying problems, that if repaired, can prevent customer and employee injury, and more expensive concrete replacement projects down the line.
WHY REGULAR CONCRETE INSPECTIONS ARE NECESSARY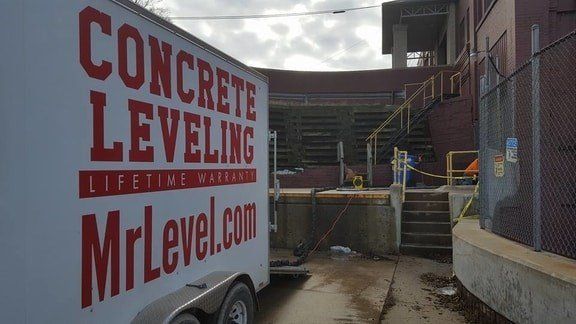 Your sidewalks, steps, parking lots, and more are likely made of concrete. Eventually, wear and tear from regular use and exposure to certain weather conditions can cause cracks and uneven surfaces, leading to flooding and trip hazards. While your insurance policy will likely cover claims, slipping on a wet surface or tripping over a concrete crack may cause your premium to spike, leading to years of increased costs. You may even be violating ADA regulations, which could slap your business with additional fines. The more you prolong your concrete repairs, the faster these issues can escalate. This is where a concrete inspection company like Mr. Level can help.
WHAT DO CONCRETE INSPECTION SERVICES INCLUDE?
Mr. Level's concrete inspection services are designed to prevent injuries and minimize damage to help you maintain your property and keep costs low. These inspections will be conducted by one of our trained in-house experts who will be able to do more than just spot already-existing cracks that you could find yourself.
We'll fully examine every area of your commercial property, whether it's a parking lot, sidewalk, or concrete slab floor. Our experts will know exactly how the concrete was mixed, installed, and weathered with age, allowing them to provide the best recommendations and most cost-effective estimates for repair.
WHY CHOOSE MR. LEVEL FOR CONCRETE REPAIR
If your company has sunken, uneven, or cracked concrete, you want to get your concrete leveled right away. With the skilled knowledge and experience of Mr. Level, your business will be safe and attractive to staff and customers and cost-effective for your bottom-line.
We always look to fix your concrete first—but if we can't, we are the only company that will replace it if needed. Contact Mr. Level today to request a concrete inspection for your commercial property.